This article discusses the use of the Elop Insight scanner for detecting features in Steel Fiber Reinforced Concrete (SFRC). SFRC is a type of concrete designed to enhance its tensile strength and limit crack growth, and inspections of these structures are often necessary to verify design. However, the presence of steel fibers in SFRC can limit the effectiveness of some Non-Destructive Testing (NDT) techniques. The Elop Insight scanner uses ultrasonic waves to inspect SFRC structures without damaging them, providing detailed 3D images of the concrete's condition and enabling the detection of features such as clear cover, placement of pipes and depth of concrete element.
Concrete has various different types with respect to different mix designs and additives, one of the commonly used type is R.C.C with steel fibers. Steel fiber reinforced concrete is produced to limit crack growth and increase in the tensile strength of the concrete and is used in the structures where Excessive loading is expected like in bridge decks, beams, large warehouse floors etc. Like every other type of concrete, Steel fiber reinforced concrete can also undergo different problems like micro voids causing honeycombing etc. Considerable reduction in workability can also cause complications like placement of objects in concrete. These challenges push asset owners to verify different features inside this concrete to verify their design  such as clear cover, placement of pipes and depth of concrete element.
Inspection techniques such as Ground Penetrating Radar (GPR), Ultrasonic testing (UT), and Rebound hammer testing can be used to inspect and detect potential issues within the concrete structure without damaging it. However, steel fibers in concrete structure can also affect the detectability and limit the usage of some NDT techniques. For GPR, the steel fibers in the concrete can cause strong reflections, which can interfere with the signal and make it difficult to detect potential issues within the structure. This can be overcome by using other inspection methods such as ultrasonic testing, to ensure that the structure is properly evaluated.
The Elop insight scanner is a tool that uses ultrasonic waves to detect different features and problems within this type of concrete. The scanner contains an array of ultrasonic transducers assembled in two separate rollers that are used in a pitch-catch mode, which allows for the detection of subsurface features in the concrete. This technique can provide detailed information about the condition of the concrete structure, such as the location and size of cracks, voids, and rebar. Additionally, by using the SAFT (Synthetic Aperture Focusing Technique) algorithm for image reconstruction, the scanner increases the image quality and signal to noise ratio. This allows for the generation of 3D real-time images with improved tomographic B, C and D-scan, which can provide detailed information about the condition of the concrete structure.
The Elop insight scanner has been used to evaluate its ability to detect features in Steel Fiber reinforced Concrete both with and without reinforcement mesh. The tomographic SAFT images can be generated at different locations of the concrete specimen along with a 3D image showing the entire scanned volume.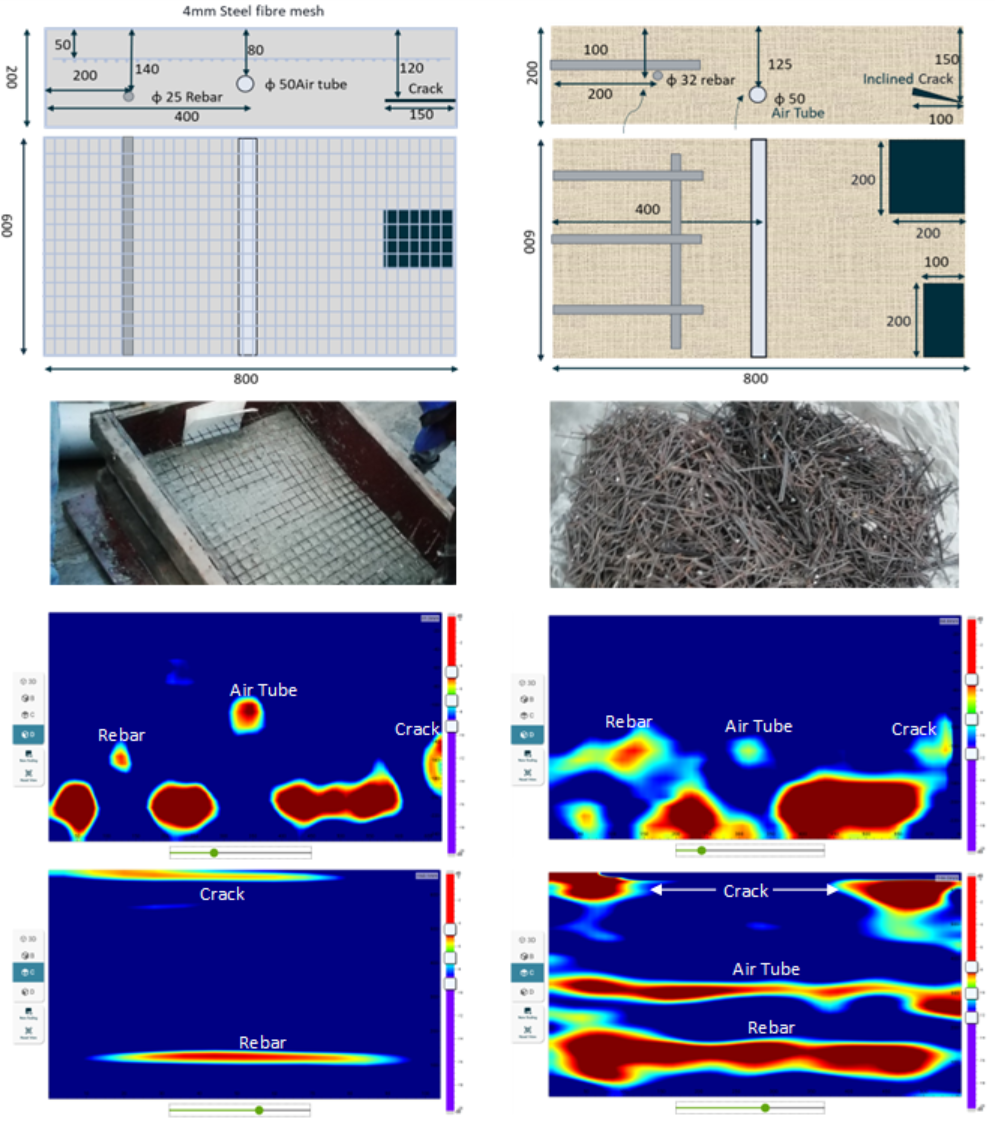 Figure: Selected C-Scan and D- Scan images from the steel mesh

concrete

, 4mm

(left) &

steel

fiber

reinforced

concrete

(right) showing the inside features