We dwell in a world full of splendid and purposefully built infrastructures, as infrastructural modernization is aggressively adopted. And it shows no sign of slowing down. Tech-driven innovations in the construction industry have simplified the making of massive skyscrapers, long-stretched beam bridges, nuclear towers, dams and every structure that hold a significant mass of concrete in it.
However, one query that remains unanswered is, do we have a robust solution to monitor the damaged, deteriorated, and substandard civil infrastructures? Maintaining concrete infrastructure requires reliable and data-driven tools to plan repairs.
For any concrete structure, there is always a fundamental performance criterion set that comes with validity. This criterion includes various critical parameters such as load-carrying capacity, structural safety, durability, and serviceability.
Over time, as these structures start ageing, a planned assessment is required to ensure the health of concrete structures and draft a plan of action based on data. And with Elop Insight Scanner, we now have a milestone moment in the field of non-destructive testing, as we successfully tested the capabilities of our ultrasound rolling device at Hamburg, Germany in coalition with CON + ScanTech.
– Elop Insight, the world's first rolling ultrasound concrete scanner makes it possible to scan large areas in short period, enabling efficient on-field inspection. This makes us unique to be a preferred technology partner of CON+ Scan Tech to provide data insights for their digital twin solution, says Imran Tamboli, CTO at Elop.
Scanning beneath with Elop Insight
German-based CON+ScanTech is a specialist consultancy company for building maintenance and repair. It is known for its tech-driven approach to build innovative and sustainable digital solutions dedicated to digital assessment of concrete structures. The company holds contracts with the asset owners for inspection and maintenance, specifically parking lots. CON + ScanTech deploys several high-tech devices and technologies to analyze the health of constructions through its digital twin solution. Considering the complexity of evaluating massive concrete structures from within, it recognized the need for technology to make inspection hassle-free and data driven. They reached out to Elop Technology to seek insight into how the Elop Insight scanner might apply to their inspection business.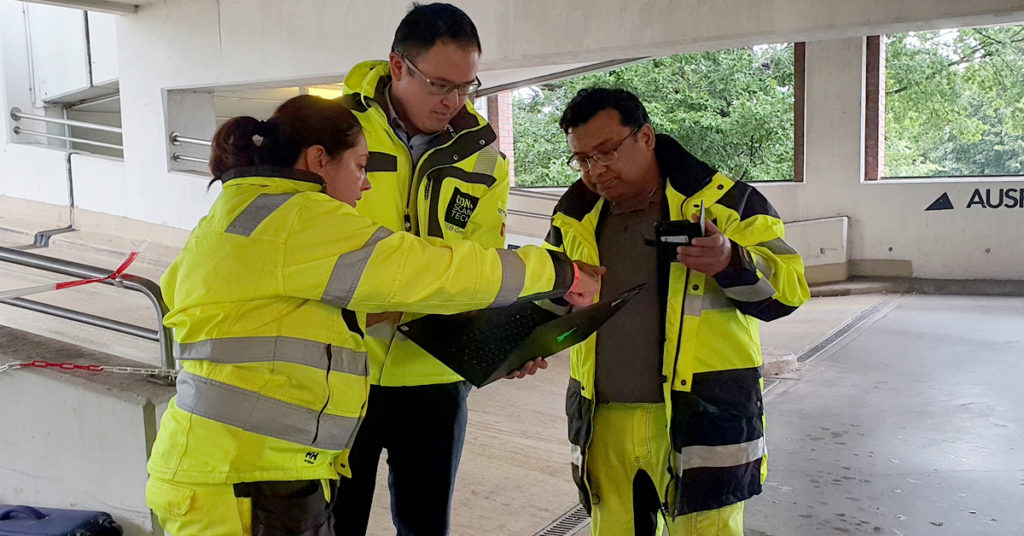 Test site
The test was performed in a parking lot named P+R Steinfurther Allee in Hamburg, Germany. It is a three-storey parking lot with total area of 6000 sq ft.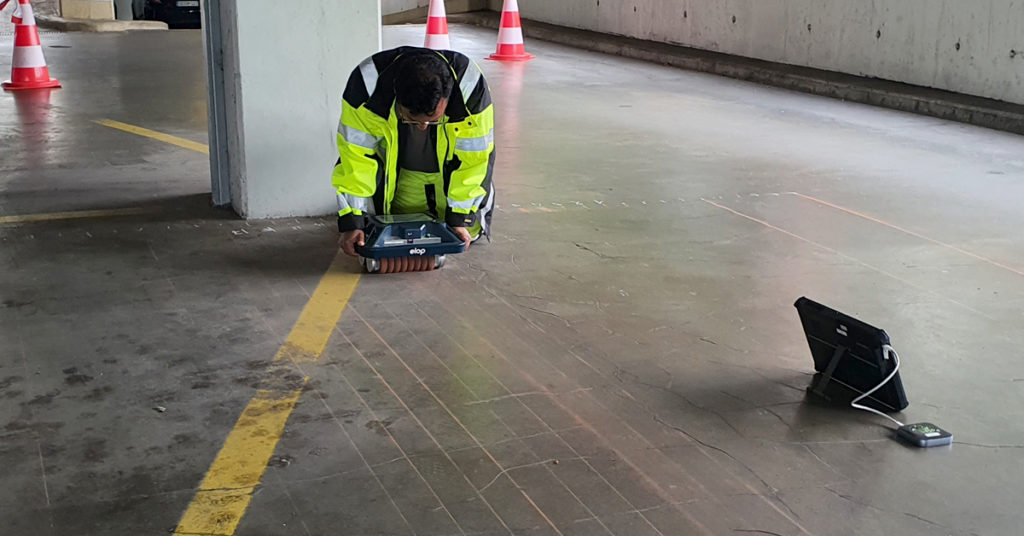 The test
CON + Scan Tech, being a prominent player in asset maintenance, intends to integrate the data from the scan into a digital twin, which is a visual 3D replica of any structure. Having used various other technologies such as GPR to scan the concrete structures, Elop Insights ultrasound scanner open new possibilities.
CON + ScanTech approached Elop Technology to get an evaluation of the Elop Insight scanner and to understand the possibilities for integrating the data with its digital twins.
Elop Technology's test team included structural engineer expertise, scientists, and was supported by three representatives from CON + ScanTech.
The team defined the specific area and managed to scan 200 Sq meters of surface in record time of 4 hours!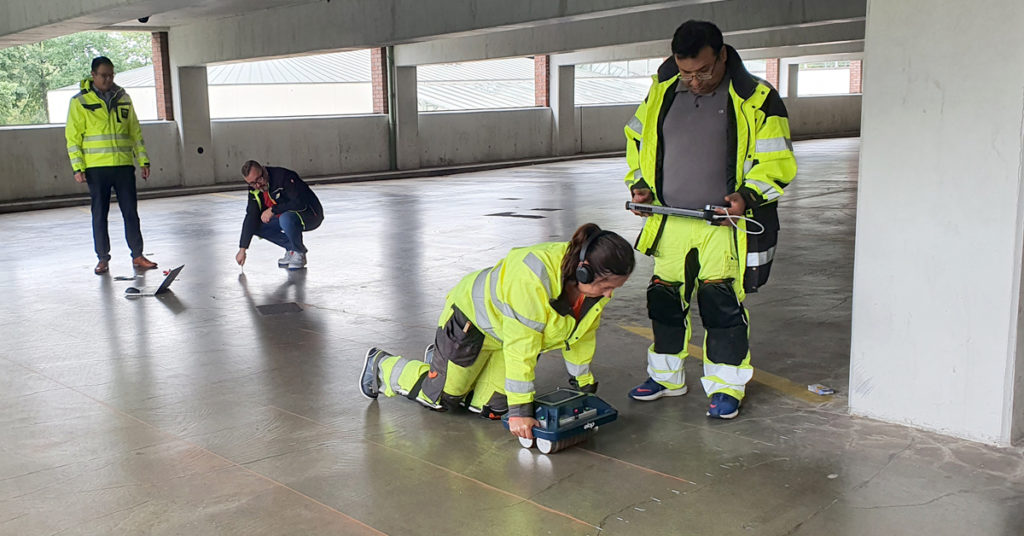 Conclusion
While testing the surface the team was able get the feed and monitor the real time data, while operating from a remote location. Post testing, the team found multiple defects such as air pockets, cracks, delamination in the structure.
The successful demo at Hamburg shows how promising this device is in the long run. The world's first ultrasound rolling scanner, Elop Insight, can inspect larger areas in record time than ever before. Moreover, the data can also be integrated with platforms attributed to structural health monitoring.
With smart and scalable cloud-based solutions CON+ Scan Tech can gain full digital control over their structures. This enables them to monitor infrastructure, perform predictable and preventive maintenance, and lay the groundwork for maintaining structures and optimizing lifetime costs.
Elop's rolling ultrasonic scanner proves to be significantly more efficient and gives a convenient way to test large areas of concrete structures than with any other technologies on the market, saving asset owners and inspection companies time and cost. For CON+Scan Tech this opens a new potential market for structural inspections and what insight they can provide to their customers and safety for their users. The inspection industry is a niche domain yet lucrative, as very few players have access to the new age technologies dedicated to inspection and structural health monitoring. We believe CON+ ScanTech, which is among the early adopters of Elop Insight Scanner can gain head start in this promising and untapped market.